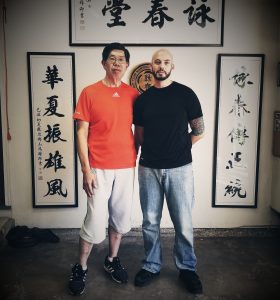 Chris Kellner and the VTMAA
Chris Kellner has been involved in Chinese Kung Fu since the age of 9. He found Ving Tsun in early 1995. Very much a traditionalist he passes the direct knowledge and philosophy that was passed down to him to each of his students. He is active with the studies of Chinese medicine, cupping and acupuncture since 2004. Sifu Kellner teaches Ving Tsun for the love of the art and for the enjoyment he gets from passing his knowledge onto his students. He runs the school as a family, which he believes this way we can express the true essence of the art. Sifu Kellner believes that Kung Fu should be taught from the heart and to stay true to the teachings so that the traditions can be passed on for the next generation to follow.
Through his Ving Tsun journey he found his Sifu Eric Li (Li Yun Tung) a true Kung Fu father and mentor. In his travels, training and the priceless time spent with his Sifu, the direct teachings from his Sifu have helped him develop a better understanding of the Ving Tsun "Wing Chun" system helping him find and refine his Kung Fu and allow him to see the system as it truly is.
Sifu Chris Kellner is the founder for the Ving Tsun Martial Art Association and Director of the Wing Chun Society – Quad Cities